Press Release on korean cosmetic newspaper
Dongbang B&H,
In the era of corona19, when everyone is difficult, they look for answers at online.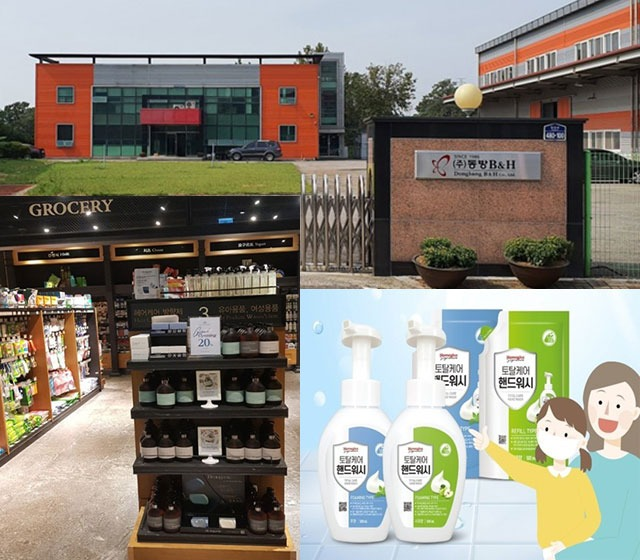 Korea, or the world, is now suffering from Corona 19, which began in 2019.
Companies that have to think about survival in difficult situations continue to struggle with life and death in their own way.
Despite the hard efforts of the government and all business people, there is only a gloomy prospect that global economic growth will be difficult to escape from the negatives beyond this year and next year.
In this situation, there is a company that is overcoming the crisis by actively using online channels, which is drawing attention from the industry.
Its main character is Dongbang B&H Co., Ltd., a cleaning household goods company located in Hwaseong, Gyeonggi-do with the motto of "TOTAL LIFE CARE COMPANY".
Since its founding, the company has been devoted to beauty soap for over 30 years, and has grown into a current cleansing total care brand based on improved productivity through OEM/ODM and cultivated technology for large companies (Amorepacific, Aekyung, Dongsan).
"Our company was also hit hard by Corona 19 until the first half of this year. In particular, overseas exports have been hit hard. Meanwhile, by strategically reinforcing online channels to enhance communication with customers, sales are rapidly recovering to the level of last year."
An official from the company's overseas business division said, "It was difficult to compete with companies that dominated in capital and manpower in the existing business methods through overseas fairs, business trips, and buyer meetings. However, in a situation where the rules of the game have changed due to Corona 19, how to use the only open online channel is a huge opportunity for business beyond survival."
In addition to the company's website (www.dongbangbnh.com) in the form of a web catalog, a separate online channel (www.dbsoap.com) with a shopping function and quotation simulation function added, and in connection with it, utilize the ZOOM meeting program. Buyers from anywhere in the world are able to solve their questions in real time in a manner similar to face-to-face meetings.
In the future, the company plans to upgrade these functions so that buyers from anywhere in the world can use the simulation function to make OEM/ODM orders easy, simple and reliable, from the box to the packaging anytime 24 hours a day.
In line with this, the domestic business is also looking for vitality again.
Recently, Homeplus Handwash PB, WeMape detergent and softener PB products were manufactured and delivered, and it is said to be a plan to strengthen the distribution brand's PB product proposal based on quasi-drug product license and laundry detergent environmental certification.
In addition, it was selected as a supplier of hand sanitizers used by the entire ROK Army in 2020 by the Public Procurement Service, and Vuganik, one of the distribution brands, entered the luxury store'Gomei 494' at the Galleria Department Store in Apgujeong and recognized by demanding Korean customers. It has also been recognized for its luxury quality.
An official said, "Starting with the Galleria department store in Apgujeong, the store will proceed sequentially to Gwanggyo and Daejeon."
It is said that all these things started through the emergency management "2056 Project," which President Tae-hee Kim declared on May 6 this year.
"We hope that we will supply products that the world people can trust with in the increasingly deteriorating environmental pollution. I promise.
We judge that everything starts with environmental issues mankind must protect now.
Thinking about the environment and using more eco-friendly products,
We will be a company that strives to be one step ahead of the time when we need to open it," said the CEO.
The company also actively participates in various projects promoted by the Korean government,
Family-friendly company certification and smart factory business, such as "a better company to work for", "smarter
We are continuing our efforts to "produce eco-friendly products through the production process".
I hope that the plans that Dongbang B&H Co., Ltd. has been preparing for the past 36 years will take off through this 2056 project, which is expected in 2021, and we hope them to become a company that gives hope to Korea, which is experiencing difficult times.
https://www.cmn.co.kr/sub/news/news_view.asp?news_idx=34364
http://www.jybtv.kr/news/articleView.html?idxno=56548